A Vision in Motion speaker Scott Chesney has released the trailer to his new documentary, "Ride The Wave," a film about Strength, Perseverance, and Family. 
Scott Chesney  has spoken to over one million people in 38 countries, motivating and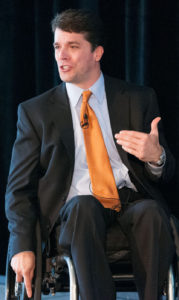 inspiring them to live their lives to the fullest. Chesney draws from his personal experiences of being paralyzed since the age of 15 and amazing adventures of courage and fortitude during his two world tours. His S.E.E.K. (Self-Esteem Enhancement for Kids) program is a series of empowerment presentations that are customized to meet each and every school's personal needs.
Believing that every issue affecting today's youth can be traced back to one's self-esteem, Scott challenges students to examine their lives on the deepest of levels and helps them to access their greatness. His blueprint for helping students journey from where they currently are in their lives to where they want to be, creates a strong foundation of self-esteem and reinforces the his overall message that "anything is possible when one dream, believes, and works to achieve." He compliments his school presentations by delivering dynamic and transformational staff development and parent workshops. An inspiring video that chronicles the trials and tribulations of his life with photos from around the world and his skydiving adventure is one of the many highlights that his programs deliver.
In addition to being a two-time world traveler and a person with a disability, Scott is the owner of his own business, a firewalker on his hands, skydiver, mentor, husband, and the father of two amazing children.
About the Film:
Start seeing life through a new perspective and join Scott Chesney on his journey to inspire the world. Scott has traveled all over the globe sharing his message; now, we are bringing his voice to you.
A positive outlook on life and a deep connection with the people around you can go a long way. See how far these key principles take Scott Chesney as he conquers the obstacles of life.
Watch the Trailer: https://vimeo.com/ 204561870
Documentary Website: http://www. ridethewavemovie.com/
Featured image / "Ride The Wave" Logo Design by: Eyepeeling
Booking Inquiries: To book Scott for your next event, please contact agent Jay Gittleson at (800) 883-4147 or email jay@avisioninmotion.com