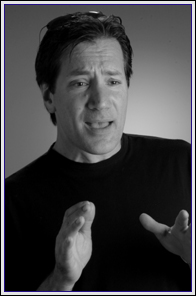 A Vision in Motion speaker Billy Ayres is on a great mission and continues to do amazing things to touch the lives of many people through his work and with the formation of his non-profit organization Lifeline Theatre.
Lifeline Theater is a 501(c) 3 non-profit organization created to provide an outlet for unlocking the potential of children and adults with special needs through integrated arts and life skills programs. He uses singing, dancing, creating plays, artwork and gardening. The organization helps participants realize their own strengths and potential contributions to their communities.
Billy has created a technique called improvisational integrated music/drama. This technique was used to create over 100 original plays and musicals, music videos, short films and more, which the participants have performed. These plays and experiences have been written about in the New York Times, The Journal News, The Bedford press, The Gannett newspaper, Cerebral Palsy magazine and many others. Billy has over 30 years experience working with the special needs population. He is also a published songwriter and commercial singer with many national jingles
to his credit. Billy is an "Honor our heroes" recipient in 2007 from Senator's Schumer and Clinton, for his work with the special needs population. Billy has created and directed original plays in all kinds of venues, including homeless shelters, community centers, and public and private schools.
Ayres  holds a Masters Degree in Special Education and is a certified teacher.