Cornelius Barker, MA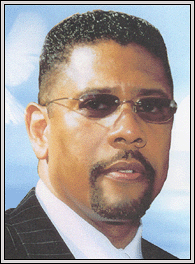 Topics
Self Existence
Importance of an Education
Rap Music
Stupidity vs. Dignity
Preventing Physical Altercations
Origin of Street Behaviors
Weapons
Leadership
Peer Pressures
Gang Involvement
Friends
Parental Involvement
Careers
Drug Prevention Techniques
Communications/Ebonics/Graffiti
Teen Pregnancy
A former gang member who became a school administrator for more than 25 years. He delivers motivational lectures that help students re-evaluate themselves and their interaction with peers. He also lectures to school and community groups on the topic of cognitive & behavioral trends exhibited by today's youth.
Biography
A former gang member who became a school administrator. Dr. Doom is not a nightmare. The letters that make up the name are an acronym, that represent:
Developing Respectful Disciplines Over Oppressed Young Minds
Cornelius wants the world to know that anyone who works for the betterment of the welfare of children and society as a whole are also a DR. DOOM.
Cornelius suffered from the lack of parental love. He joined a gang to gain acceptance and experienced more than his share of physical and mental abuse. The horrific treatment by the adults in his life played a large part in the bad life choices made. His gang membership alienated many adults in his life. They misunderstood and often punished him unfairly. He tried repeatedly to prove his intelligence and natural gifted talents, but met with disapproval and discouragement. For the most part, his life was one of searching for acceptance, recognition and respect.
Cornelius L. Barker is presently a much sought-after lecturer for school and community groups on the subject of current cognitive and behavioral trends exhibited by today's youth. He served as a classroom teacher and as administrator in both elementary and secondary schools. He has visited over 25 states thus far and has visibly touched the hearts and minds of over 475,000 students, parents, teachers, PTAs and more.
In his retirement, he works with juveniles and young adults in an urban prison system using his extensive experience in research and lecture with that population to reach, teach and motivate his students to embrace education as a catalyst for restored hope and adoption of an altered perspective, and hopefully, a changed life.
Presentations Include the following:
"Listening With Your Eyes"
Regaining the pulse of your child with solutions to a better relationship.
"For Ladies Only"
An inside look at the pressures that confront our young ladies today.
"The Wall"
Conquering Obstacles.
"The Choice: Stupidity vs. Dignity"
Children making choices that will affect their lives.
"Let There Be Peace"
There is a choice…the inner realities of gang involvement.
"Daddy or Father"
Parents/guardians living up to their responsibilities.
"And Yet He Lived"
A Fact-based lecture about a child's journey through poverty and pain.
"The Life of a Jock"
The academic and athletic pressures on and off the court.
"Cornelius aka Dr. Doom is not a nightmare, he develops respectful disciplines for our youth. "Cool" comes from a person's heart – students should look in the mirror and make sure that what they see is themselves, and not a hodgepodge of television characters."– Cathy Anderson, Staff Writer, Lawrence, New Jersey
"Cornelius Barker is truly determination personified. To overcome so many obstacles, with so many negative outside influences and still persevere to give back to the community, should be considered nothing less than a gift from above."– U.S. Customs Service
"Dr. Doom's 'Street Wise' message to our program participants was not only meaningful but timely as well. Your message is a motivating force for those young people who have the privilege of hearing it … as well as being an eye-opening experience for those who have little knowledge of what inner-city 'street life' is really about." – David P. Gomez, Assistant Director, Pre-Captain, Saint Peter's College
"Cornelius aka Dr. Doom's [message] on teenage pregnancy: he told the young men that responsible fathers pay for the diapers and change the diapers. His presentation captivated an audience of high school and college students, parents, teachers, and other professionals for approximately an hour and a half." – John Dorsey, Principal, Red Bank Catholic Schools, Protect Alpha-Teenage Pregnancy
"Cornelius was a wonderful keynote for our Youth Leadership Conference and the students truly enjoyed him. It was great to see him incorporate our six core elements of character and leadership: integrity, respect, responsibility, citizenship, caring and fairness, into his speech." – Officials aboard the U.S.S. Intrepid
"Dr. Doom specializes in street wise problems in redirecting the lost youth of today." – Stephanie Carson, Coordinator, "Just Say No"
"Dr. Doom's Best Kept Secret [was that] his message was realistic, candid, and most importantly, relevant to the needs of young people. It is rare to find an individual with such unique lifetime experiences and who, against all odds, has turned his life around." – Rubin E. Joyner, Director of Educational Opportunity Program, Rider College
"Cornelius aka Dr. Doom delivered to us the true perspectives of street knowledge." – Anthony Tillman, Director of Educational Opportunity Scholars Program, Drew University