Dr. Paul Wichansky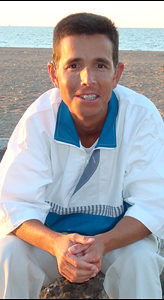 Topics
Character Education & Development
Peer Leadership
Overcoming Adversity
Self-esteem Enhancement
Anti-Bullying Strategies
Promoting Empathy in Middle Schools
Empowering the Youth
Emotional Intelligence
Disability Awareness
Diversity
Drug and Alcohol Prevention
Parent Workshops
Professional Development Workshops
Commencement Speaker
Special Counseling Visits with Families
Career Days
A passionate TED Talk speaker and author who has triumphed over cerebral palsy and a hearing loss, Dr. Paul instills in students the motivation and perseverance needed to help his audiences soar towards success. During the past 36 years, since age 10, he has hosted an estimated 7500 presentations on the topics of diversity and disability awareness, character education, anti-bullying, and empowering our youth. His uplifting assemblies encourage students to ensure their names become symbols for success as they learn to embrace the ideals of confidence and leadership that help make their lives a success story.
Biography
Since he was ten years old, Paul has presented disability awareness and character education programs at many elementary, middle, and high schools around the country. He enjoys sharing with students his own day-to-day experiences with humor, with two objectives in mind. First, Paul wants to help others become truly excited about themselves and what they can do with the right attitude and desire! Second, he frames the program around the positive perspectives and realities of growing up with cerebral palsy and an associated hearing impairment, helping students to bridge the gap that always seems to separate the word, "normal," from "disabled."
To achieve these two goals, Paul shares the experiences within his own life that have allowed him to reach a simple dream he had many years ago — to be able to walk. These programs challenge the common perceptions and stereotypes that are so often applied to people with disabilities. The experiences he shares are funny and insightful, and in no way depressing, and help to emphasize that one's capabilities should always overshadow their disabilities. There is also no better feeling in the world than to make students smile and feel good about themselves, because they then may develop the motivation to overcome their own challenges to realize the goals and dreams that they have!
Thirty-five years later, as of March 2016, Paul has since delivered over 7000 motivational programs to hundreds of thousands of children and teens, parents, teachers, and school administrators. He has captivated high-school students at peer leadership conferences, motivated thousands of athletes and coaches at the Special Olympics, and inspired government representatives at the United Nations. His video emphasizes a true testament to the unrelenting power of courage and unconditional love, shared through his experiences and feelings of self-criticism, frustration, reflection, humor, joy, and, ultimately, triumph.
His speaking resume includes high-school students at the New Jersey State Police Academy as well as undergraduate and graduate students at Rutgers, the State University of New Jersey, Cook College, Rider University, Kean University, Ramapo College, Montclair State University, Wheaton College, and Villanova University. Since 1998, his disability awareness workshops have been requested by the New Jersey Education Association (NJEA) at their annual teacher conventions in Atlantic City. Invited by former New Jersey Governor Christine Todd Whitman to discuss his experiences during an individualized education program (IEP) development conference, Paul has captivated students and teachers alike in eighteen different states, including California, Michigan, Ohio, Missouri, Washington State, Virginia, Florida, Wisconsin, Indiana, Connecticut, and Massachusetts.
Paul has earned a Ph.D in environmental science, under the option of atmospheric science, from Rutgers University. He is also a published author, with guest columns in magazines and even books. Recently, Paul has authored a full chapter of the book, "New Jersey's Environments: Past, Present, and Future," edited by Rutgers historian Neil Maher. In addition, his doctoral research was featured on the front page of the New York Times, with a full color photograph!
Paul's message is simple: when we allow our imagination and our realistic possibilities to soar, we can confidently leap over some of the most overwhelming hurdles that life throws at us.
Celebrity Connections:
Dr. Paul has inspired various celebrities as well.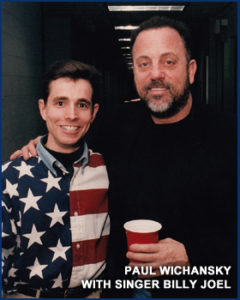 Billy Joel with Paul Stuart Wichansky
Paul's experiences also show that when you believe in yourself, others will too. Another of his dreams came true: a one-on-one conversation with "Piano Man" Billy Joel.
Paul's favorite song is Joel's classic 1977 hit, "Just The Way You Are". This photo was taken in April 1996, prior to one of Billy's college lecture classes at the University of Delaware.
When this photo arrived in the mail a few weeks later, Dr. Paul wanted to place an extra smile on Billy's face! Since he had several 8×10″ copies of the photo, so Paul autographed an 8×10″ copy of this photo and mailed it to Billy for his own collection! Paul later learned that Billy chose to frame this photo and hang it in the den of his Manhattan apartment! What a very generous gesture!
In February 2002, Billy introduced Paul and his sister to singer Elton John, and then they performed the song, Just The Way You Are, that evening at a Philadelphia concert. .
Dr. Paul's letter to actor David Hasselhoff offers insights into an important life philosophy.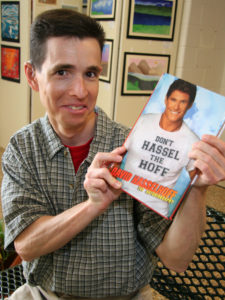 His letter explains how the 1980s Knight Rider television series helped him understand (at an early age) that each of us can be heroes – in other words, ordinary people who triumph over extraordinary circumstances – like our favorite television characters do each week.
David has generously published the full letter in his official memoirs, titled "Don't Hassel the Hoff." Dr. Paul's letter also remains the only fan letter that David has included in his autobiography.
Dr. Paul with Christopher Reeve
Never expected to meet and be inspired by his idol, Christopher Reeve. Paul told him that, when he saw the first Superman movie in theaters in 1978 as a youth, Reeve's character convinced Paul
that his dream (of walking) has wings of its own! Paul's compliment made him smile. The camera flash was not used because he did not want to hurt Reeve's eyes.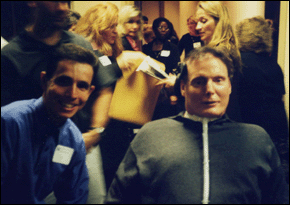 Elementary Schools (K-5)
Taking the "Dis" out of "Disability"
Dr. Paul emphasizes the critical issues of tolerance and respect and relates these topics to self-esteem and the development of a "Yes! I Can" attitude. By sharing his life experiences, he uses himself as an example to help inspire students to learn from their mistakes and failures, and in the process, helps them realize that success is readily available with hard work and determination. His captivating analogy that describes the long-term effects of teasing encourages students to develop compassion and an understanding of others, and in essence, learn to emulate the core ethical values as the basis of good character.
Middle/High Schools (6-12)
Access to Success: A Dream, Motivation, and a Winning Attitude!
His interactive presentation outlines a prescription for success which includes strategies to avoid the temptations of peer pressure while re-channeling that energy into becoming a positive peer leader. Students are taken on a journey of self-discovery through Dr. Paul's own life experiences, his humorous and insightful stories, and even a dramatic video. A Q&A session follows each program. Follow-up classroom visits are available to help stimulate discussion, student interaction, and critical thinking.
Letters from Middle & High School Students
Testimonials from K-12 Principals
Testimonials from K-12 Teachers
Filling the Holes of Self-Esteem
Dr. Paul's presentation describes the memorable experiences for his success which includes strategies for dealing with peer pressure and abstaining from drug and alcohol use. In his program, Dr. Paul shares some effective strategies for "Saying No" To Drugs and highlights the dangers associated with substance abuse (drugs, tobacco, alcohol). He explains how substance use/abuse can induce low self-esteem and self-worth. This is a captivating program designed to discourage middle and high-school students from experimenting with these substances and encourage them to take care of their bodies/health as one of the hallmarks of high self-esteem and peer leadership. An audience Q&A session with Dr. Paul follows the program.
Teacher/Staff Workshops
Be The Role Model You've Always Wanted To Be
Dr. Paul's inspirational presentation will inspire and motivate any school staff at any level. Participants have an opportunity to reflect on their own lives and careers, while Dr. Paul shares his own uplifting story of overcoming tremendous adversity to earn his Ph.D and become a professional speaker. During his in-service workshops, he closely interacts with his audience to share effective teaching and learning strategies for students with special needs.
"Dr. Paul is a genuine individual filled with enthusiasm and heart. As a high school senior, I attended Trooper Youth Week at the New Jersey State Police Academy. That week was an incredibly difficult challenge on the heart, mind, and spirit. Going into that week I had all of those, however no amount of adversity would take me down after listening to Dr. Paul speak about his life challenges and successes which by itself is enough to empower even the weakest of individuals. His presentation included humor that had the entire room laughing. He is an incredible morale booster and is such a positive influence to any individual. I know I was inspired by Dr. Paul to the point where I know I will never back down from any challenge no matter how difficult because reaching the end of the tunnel and succeeding would have made it that much worth it. I HIGHLY recommend Dr. Paul for a presentation with any age group. He has the perfect likable personality and heart that will never give up on something that he truly believes in. Thank you Dr. Paul for your presentation at Trooper Youth Week. Your impact is still felt to this day!" -Matthew Iozzio, Student and Community Service Officer, Rutgers University
"High school can be a challenge for many teens and being reminded of both the greater challenges in life and also the need to look ahead and stay positive was reinforced in your message. As we stood today to give a standing ovation to you, it was not as amazing as seeing you stand for us." – Marshall Cohen, Sophomore Class President, Holliston High School, Holliston, M.A.
"Hey Paul, It's people like you who TRULY keep people like me going. Thanks for your letter, thanks for your courage, thanks for allowing me to use it in my book! From my 1980's television show, Knight Rider, ONE MAN CAN MAKE A DIFFERENCE, AND YOU ARE THAT MAN! With respect and admiration," – David Hasselhoff, actor and singer
"Outstanding motivational presentation! Paul was warm, sensitive to the childrens' questions, informative, inspirational, and displayed a wonderful sense of humor. Children are already comparing him to some of the 'heroic characters' they've read about in literature this year." – Sharon Kitley, River Plaza School, Red Bank, N.J.
"If I was born with cerebral palsy, like Mr. Wichansky, I would have liked to grow up as him." – Alex, 3rd Grader, Franklin School, Summit, N.J.
"I left that room with tears in my eyes and determination in my mind. After that day, whenever I doubt myself, I think of Paul. He overcame so many obstacles set before him, and yet he turned out to be a knowledgeable and inspirational person. I now tell myself: if Paul can do it, I can too." -Lauren, 8th Grader, Allentown, N.J.
"I now realize I can conquer my INNER disabilities and that I can now do things with such assurance. I have realized that to get to your dreams, you have to be able to trip and fall once in a while to learn from your mistakes." – Christen, 6th Grader, Morris Plains Borough School
"When does a PTO meeting result in a heartfelt standing ovation? Or how often can you feel the palpable joyous emotion emanating from the audience after a speaker has shared his message? This is precisely the effect that Dr. Paul Wichansky had among our parents! His message about living your dreams each and every day and always interacting to make the lives you touch better is empowering. Dr. Paul connects with his audience through humor and wisdom with simple ideas that truly resonate with each individual. He creates moments of clarity and purpose that effectively inspire action. Everyone walks away changed and renewed. And his effect on our students is even more powerful! When our children look back at those moments in school that set the direction of their lives, many will recall their interaction with Dr. Paul as life-changing. It's a memory that will continue to shape their futures." -Lisa Martone, Eisenhower Middle School PTO
"Inspirational! Paul heightens the awareness of all the effort involved in dealing with a handicap and reinforces, to children, that people with disabilities are just regular folks dealing with a weakness. His theme of reminding students that we all have strengths and handicaps is a good one!" – Sandra Goodman, Franklin School, Summit, N.J.
"Your friendly and open nature is simply magnetic, and it's easy to see how students, and people in general, are drawn to you. There are few people in this world who possess the God-given talent to single-handedly transform others' attitudes and perspectives in a positive way, and you, dear Paul, have undoubtedly been chosen to be one of them." -Paula Little, Barnegat
"Your experiences and words of wisdom truly touched me and all of my students, as you can see from the enclosed letters. I do believe that there is a 'plan' for all of us, and your life story is evidence that nothing can and should get in the way of your dreams. Your courage is an inspiration to all who get to meet and learn from you. Thank you again!" -Emily Mauro, Teacher, Dix Hills, N.Y.
"Our audience very quickly became affected by this amazing speaker. They responded appropriately to his sense of humor and appreciated some very simple life lessons he looked to instill upon everyone. Paul challenged us to rip the 'T' out of the word CAN'T. He focused so much attention on the importance of a smile and how contagious your smile and your positive personality can be. He helped the students and the adults to appreciate what it means to live with a disability and that anything is possible with a supportive network of family and friends and an inner determination. Meeting Paul Wichansky was a very unique opportunity. I wish all of you could have had the same experience; since you weren't able to, let your childrens recollections and reactions be the next best thing!" – Michael Donovan, Vice-Principal, Ridgewood Avenue School, Glen Ridge, N.J.
"There was this boy in the back row making fun of you. Well, after the assembly was over, I went to my principal and told him about that rude boy who was making comments. After school, I went to him and said, you know what, that man out there learned so much even though he has cerebral palsy, he learned how to walk, talk and even has a great job, and you couldn't do that for your life." – Mina, 8th grader
"Thanks again, Paul, for the wonderful presentation you gave our students. Throughout your lecture, I had a smile on my face and pride in my heart. What a wonderful life you are leading! My students returned to class with many wonderful questions and comments! You have "the gift" and your humor and experiences are truly an inspiration to all. To win over an 8th grade audience takes much patience and skill, and you have both!" – Randy Grauerholz, Teacher, Long Valley Middle School
"Dear Mrs. Wichansky, I want to share with you how very moved I am by your familiar story and the fantastic man you have raised, your son Paul. Paul came to host a presentation last week for my company and I literally wept with joy and hope through his entire, riveting story. As a mother of five, I was most impressed by the acknowledgement and deep gratitude he gave to you and your family. Life holds many challenges, some greater than others, but your family has triumphed over a big list of unique challenges. To see and hear your son so eloquently share your story — with love, humor, humility, and great power — was truly inspiring." -Bristol Myers Squibb employee
"We loved your presentation! It made us smile, and even cry because you touched our hearts! Thanks so much for coming to our school! Someday many of us hope to go skydiving, too! You've inspired us! You made us think positively and believe in ourselves more. It was really cool to see that you could really do anything if you try. Your artwork is amazing! That Porsche looked like a photograph, and not a painting! You told us to always follow our dreams. I never thought about the fact that every day is a part of the dream. Paul, you are our role model because you showed us how you can pursue your thoughts and dreams if you try!" -Mrs. Millard and her 5th-grade class, Seven Bridges Middle School, Chappaqua, N.Y.
"Paul, you have worked really hard to create the life you've always wanted from a place where many people easily give up and end up feeling sorry for themselves (many people do this even without a disability!). You live as an example for others that there is so much more to life than most people even dare to dream of! So many people lose sight of their dreams and do what works in the moment, eventually settling for a life that eventually makes them unhappy. Your assemblies are a powerful counter-strike against that whole concept, and it's really inspiring to see that there are people out there looking (and succeeding!) to make a difference in that area of the world!" -Michael Holak
"You've got the best car ever … and the best speeches ever … and the best stories ever! End of story. Please come back to our school!" – Chloe, 8th grader
"I just wanted to thank you for coming to my school today and giving your presentation. Not only did you give me a new outlook on life, but you also greatly inspired me to excel and to strive to do my best in all that I do. You showed me that life has it's obstacles, but with motivation and determination to succeed, anything is possible! I greatly respect you for proving the doctors wrong in learning to walk. You went even farther than that — you went skydiving and scuba diving, and even got a cochlear implant! Thank you, Paul! You are my inspiration for when I need it. I hope you the best in all that you do and hope you succeed at all your other obstacles you may come across in life." – Greg, 8th grader
"Hi Paul! You deeply inspired me. I loved the way that you told us stories, educated us, made us laugh, and SMILE! If there is one way to live your life to the fullest, you are doing one of the best jobs I've ever seen. Today, you said everyone has a role model, and that yours is your grandmother. I am proud to say that you are now one of mine. It would would be an honor to grow up and help people the way you do! And from the 1980's television show, Knight Rider, where one man can make a difference, I think that you really are that one." -Emily, 8th grader