Dr. Paul Wichansky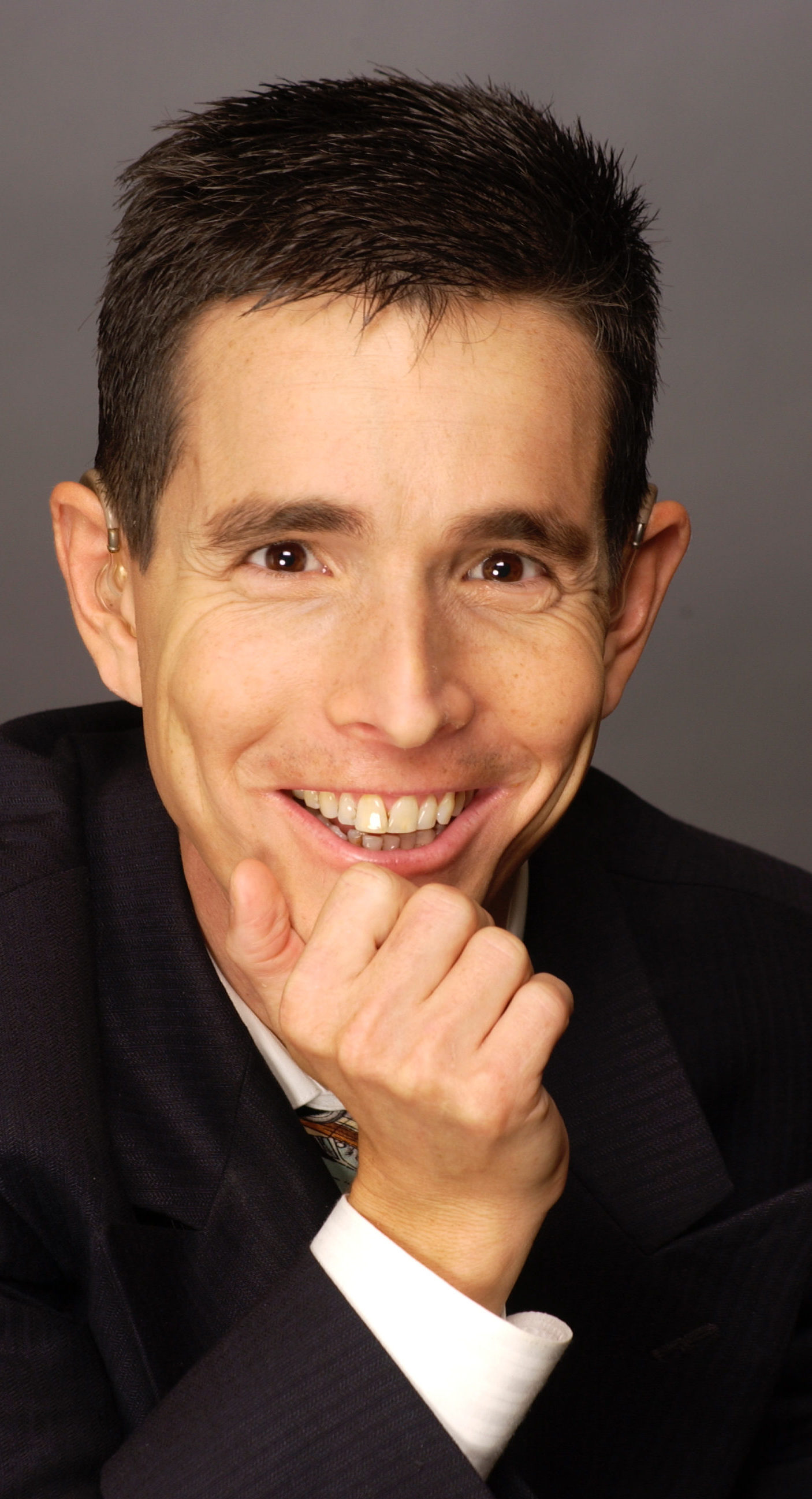 Topics
Disability Awareness and Sensitivity
Cultural Diversity Awareness
Team Building
Overcoming Adversity
Leadership
Inspirational Keynotes
Balancing Professional and Personal Lives
A passionate TED Talk speaker and author who has triumphed over cerebral palsy and a hearing loss, Dr. Paul instills in students the motivation and perseverance needed to help his audiences soar towards success. During the past 36 years, since age 10, he has hosted an estimated 7500 presentations on the topics of diversity and disability awareness, character education, anti-bullying, and empowering our youth. His uplifting assemblies encourage students to ensure their names become symbols for success as they learn to embrace the ideals of confidence and leadership that help make their lives a success story.
Biography
Through his words and actions, Dr. Paul Stuart Wichansky can be described as "inspiration personified." Embarking on an ambitious journey to conquer the effects of cerebral palsy, Paul has delivered thousands of motivational programs that inspire his audiences to look beyond a person's disabilities to understand and appreciate one's capabilities. By sharing his personal experiences with humor, and encouraging questions that can help positively shape an understanding of people with disabilities, Dr. Paul tries to instill a sense of hope, energy, and inspiration that motivates his audiences to realize their own goals and dreams.
Starting his public speaking career when he was just ten years old, Paul has since delivered his motivational programs to hundreds of thousands of children, teens, and professionals around the country. Besides his 35 years of experience hosting programs at K-12 schools, colleges, and teacher conventions, Paul has delivered keynotes to professionals in the education, medical, and human services fields. He has captivated thousands of athletes and coaches at the Special Olympics, inspired government representatives at The United Nations, and motivated federal agents of the U.S. Customs and Department of Homeland Security. His interactive workshops focus upon culturally important topics such as disability and multicultural awareness, employee productivity, human resource seminars, and sensitivity training.
Born with ataxic cerebral palsy, Paul's weak leg muscles prevented him from learning to walk unassisted until he was seven years old. He went through intensive physical, occupational, and speech therapy over the years to strengthen his leg muscles and improve motor and hand-to-eye coordination, participating in sports, fitness training, and even skydiving and scuba diving! He was fortunate to be mainstreamed in his education, having earned both undergraduate and Masters degrees in meteorology. Having earned his Ph.D in environmental science and meteorology, Paul is also the lead author of several peer-reviewed publications in the atmospheric sciences.
Making Waves by David Hasselhoff contains Paul's heartfelt letter to actor David Hasselhoff offers unique insights into his captivating workshops and keynotes. His letter explains how the Knight Rider television series made Paul understand (at an early age) that each of us can be heroes – in other words, ordinary people who triumph over extraordinary circumstances – like our favorite television characters do each week. David responded to Paul's letter, asking him if he can include the inspirational letter in his memoirs, titled "Don't Hassel the Hoff," published in several languages around the world. Paul's letter remains the only fan letter that David has included in his autobiography.
Paul's speaking resume includes undergraduate and graduate students at Rutgers, the State University of New Jersey, Cook College, Rider University, Kean University, Ramapo College, Montclair State University, Wheaton College, Western Connecticut State University, University of Virginia, and Villanova University. Since 1998, his disability awareness workshops have been requested by the New Jersey Education Association (NJEA) at their annual teacher conventions in Atlantic City. Invited by former New Jersey Governor Christine Todd Whitman to discuss his experiences during an individualized education program (IEP) development conference, Paul has captivated students and professionals alike in nineteen U.S. states, including California, Connecticut, Michigan, Missouri, Ohio, Washington State, Virginia, Florida, and Indiana.
Paul has earned his Ph.D degree in meteorology and environmental science from Rutgers University. As the first George H. Cook Graduate Scholar, he is also a published author, with guest columns in magazines, newspapers, and even books. Recently, Paul has authored a full chapter of the book, "New Jersey's Environments: Past, Present, and Future," edited by Rutgers historian Neil Maher. Click here to order the book directly from the publisher (Rutgers University Press); Click here to order a hardcover edition from www.amazon.com! In addition, his doctoral research was prominently splashed onto the front page of the New York Times, with a full color photograph!
A champion motivational speaker in front of any audience, Dr. Paul Stuart Wichansky's own life experiences are a true testament to the unrelenting power of courage and unconditional love, shared through his experiences and feelings of self-criticism, reflection, humor, joy, and, ultimately, triumph. Let Paul help your audience understand that the only real handicaps we have are those we create for ourselves.
Workshop Descriptions
The overarching themes of Paul's Access to Success motivational workshop emulate the core qualities of teamwork and communication that describe the philosophy of any successful company or organization. From small local optimist clubs to national and regional professional conferences, Paul captivates his audiences by sharing common experiences that offer a fresh new perspective when a dream, motivation, and a winning attitude are embraced simultaneously.
"I appreciate your dedication to community service and [the] outstanding contributions you have made to the quality of life in your community. You should take pride in your accomplishment." – Bill Bradley, former New Jersey Senator
"As a college professor for over 30 years, I've had hundreds of guests speakers in my classes: famous athletes, winning coaches, world-class experts, even the governor of the state! Only one of these speakers has ever received a standing ovation from my students: Dr. Paul Stuart Wichansky. College students are appreciative; they are just a little reluctant to show it! Not so with Dr. Wichansky. He stole their hearts. For some, he changed their lives. How do I know? My students have told me, sometimes years later. Dr. Wichansky has spoken in several of my classes and, every single time, it was an amazing event. He is a remarkable speaker and even a more remarkable person. Dr. Wichansky is easily the best speaker in America." – Rob Gilbert, Ph.D., Professor, Montclair State University
"Dr. Paul is a genuine individual filled with enthusiasm and heart. As a high school senior, I attended Trooper Youth Week at the New Jersey State Police Academy. That week was an incredibly difficult challenge on the heart, mind, and spirit. Going into that week I had all of those, however no amount of adversity would take me down after listening to Dr. Paul speak about his life challenges and successes which by itself is enough to empower even the weakest of individuals. His presentation included humor that had the entire room laughing. He is an incredible morale booster and is such a positive influence to any individual. I know I was inspired by Dr. Paul to the point where I know I will never back down from any challenge no matter how difficult because reaching the end of the tunnel and succeeding would have made it that much worth it. I HIGHLY recommend Dr. Paul for a presentation with any age group. He has the perfect likable personality and heart that will never give up on something that he truly believes in. Thank you Dr. Paul for your presentation at Trooper Youth Week. Your impact is still felt to this day!" – Matthew Iozzio, Student and Community Services Officer, Rutgers University
"Paul, your keynote address provided a shining example to our athletes — and to all of us — of what individuals can accomplish when they focus on developing their gifts and talents. This is a lesson that our incredible athletes and dedicated volunteers have learned through their involvement with Special Olympics. Your inspiring personal story went a long way in reinforcing this valuable message! In just a few minutes, you were able to take the stage and form an immediate and unique bond with the 1,000 athletes gathered in the Pavilion. I hope you enjoyed the experience as much as all of your spectators did." – Janine M. Cesare, President, Special Olympics Pennsylvania