Jack "Black Jack" Ryan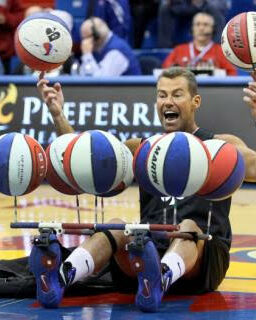 Topics
Drug Safety
Self-Confidence
Education
Nutrition
Bullying Prevention
Character Education
Jack Ryan "Black Jack" first became a Harlem Wizard in 1997 and became the first white Harlem Wizard Showman in 1999. He was recognized as the main character for a 2013 documentary and his life is also a subject of interest in a documentary called Release: The Jack Ryan Story, and a feature film is […]
Biography
Jack "BlackJack" Ryan first became a Harlem Wizard in 1997. He became the first white Harlem Wizard Showman in the history of show basketball in 1999. Jack has enjoyed providing basketball entertainment and sharing his story of overcoming adversity with audiences of all ages ever since. His K-12 school assembly programs are interactive, educational and fun.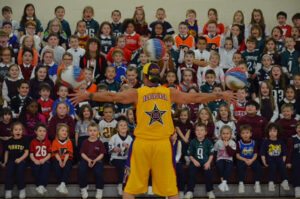 Blackjack Ryan was the main character for a 2013 documentary entitled Doin' It In the Park. His life was also a subject of a documentary called Release: The Jack Ryan Story in  2007.  Netflix premiered Losers episode #7: Black Jack in 2018 which is a documentary of his life. A feature film is now in the works called BlackJack: The Jackie Ryan Story to be released in Summer 2020.
Jack is a 3-Time Guinness Record Holder as well as an ESPN National 3-Point Champion. He is #19 In Complex.com's 25 Greatest Streetball Players of All Time and one of SLAM Magazine's greatest playground legends of all time. Jack is also #18 In Complex.com's 30 greatest playground basketball players to not make the NBA.
In my 22 years of education, this was by far the best assembly that I've seen. The students were totally entertained and engaged throughout the entire show because of your high energy and enthusiasm. You also had a way of successfully incorporating various character education and life lessons into the presentation. You know this is a great show when not one child asks to leave the assembly during the whole time. Please don't hesitate to use my name as a reference.
Christopher McCue, Principal, M. Scott Carpenter Elementary School
It is with great pleasure that I write on behalf of Jack Ryan, a basketball performer,
youth motivator and entertainer I have worked with for over 15 years.
Jack served as a basketball consultant for the New York Knicks when I worked at
Madison Square Garden from 1999 – 2016. His character, knowledge and personality
made him an extremely asset to the Community Relations Department appearing in
front of hundreds of children at Knicks Basketball Camps and Clinics.
Jack is great with kids and families, his Hoops Wizard performance is engaging, funny
and entertaining. We booked Jack for 2 appearances this past week at the NBPA Court
and he did not disappoint – his energy and passion are tremendous and he is a pleasure
to work with, bringing smiles to both kids and parents faces during his show. He always
does a nice job developing relationships with fans, kids, families and community groups
in the New York City area.
I give Jack my highest recommendation and would be happy to discuss his work anytime.
Dan Gladstone | Senior Vice President
Grassroots Basketball & Business Development
THINK450 | National Basketball Players Association